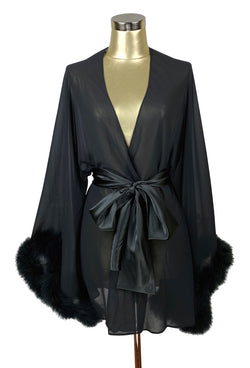 The Deco Haus
The 1930's Ostrich Glamour Boudoir Lounging Robe - Black Noir
Lounging robes are the epitome of luxury!  We're pleased to offer this limited edition of robes for The Deco Haus.
Made of semi-sheer crepe, our jacket is cut kimono-style with long belled sleeves, ostrich trim, and a matching satin belt. 

Vintage luxury!
One size.....waist up to 39", 31" long.  Best for sizes XS-M.

All of our mesh gowns are made by hand, so there will be some variation from piece to piece.  We include individual measurements for each gown, but please refer to the above chart for general US sizing in inches.
The mesh gowns also have around 2 inches of extra stretch.  For a classic, loose 1920's look....please size up.  For a form-fitting look....please size down.
We are happy to accept returns for an exchange/gift card if items have not been worn and have been returned in new condition with all the tags and packaging. We request that all items be returned within 10 days of receipt. Please contact us for a return authorization (RA ) number within 3 days after receipt.  We will not accept packages without an RA number.
Please ship returns to:  Deco Haus Attn: Customer Service  PO Box 1152  LCF, CA  91012
Final sale items cannot be returned.
Unfortunately, we can not offer refunds, as the nature of our product lends itself to special event use. As an alternative, there are many costume rental sites that feature our dresses if you are looking to wear the dress only once.
As size/fit can sometimes be an issue, please feel free to contact us for sizing advice. We can help figure out what best fits your needs and your measurements.
We want you to fall in love with your purchase from us so if you have a problem with any of our products, then please do drop us a line and we'll do whatever we can to make things right.
For our international customers:  Many countries charge a customs fee on imported items.  Please note, this fee is not included in your shipping charge or order total.  Please contact your local government office for more information on rates and customs processing.
Packages returned due to refusal, non-payment of customs fees, or insufficient address will be treated as a standard return.
Please view Terms & Privacy Policy here.